Schools Insurance Group Open Enrollment 2022-2023
You want a health plan that makes it simple. One that offers quality, affordable care. With the flexibility to choose doctors who are best for you and your family. See why over 100,000 people across Northern California have switched to Western Health Advantage to be their health plan of choice.
Watch "Get to Know WHA" Video Just For SIG
WHA Medical Groups: Sacramento Area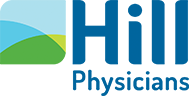 WHA Hospitals/Medical Centers: Sacramento Area
Mercy General Hospital (East Sac)
Mercy Hospital of Folsom (Folsom)
Mercy San Juan Medical Center (Carmichael)
Methodist Hospital of Sacramento (South Sac)
Woodland Memorial Hospital (Woodland

SAME PLAN CHOICES THIS YEAR
Offering plan choices between a traditional copay plan and two HSA-compatible HDHPs. See details under Plans & Benefits.
COMPETITIVE PRICING
WHA has maintained our competitive pricing this year, continuing to provide you with affordable and comprehensive care!
ADDED VALUE
Chiropractic/Acupuncture, Travel Assistance, Diabetes Reversal program and Virtual Care with Teladoc included!
ACCESS TO CARE
---
Plans & Benefits
Effective 7.1.22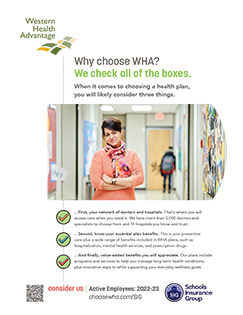 Click on this image to compare SIG's plan options. Then check out our Plan Overview Booklet for benefits details.
Rx 10/30/50 (Pharmacy Plan)
Summary of Benefits and Coverage (coming soon)
Summary of Benefits and Coverage (coming soon)
Summary of Benefits and Coverage (coming soon)
---
Partners In Health
Some highlights include their state-of-the-art NICU at Mercy San Juan Medical Center as well as the Primary Care Center on Greenback Lane in Citrus Heights. Mercy Hospital of Folsom offers comprehensive services, including surgery, award winning maternity care, orthopedics, stroke care, and ER services.
---
we've got you covered
As a provider-sponsored health plan, we support the doctor-patient relationship and offer access to quality doctors and hospitals. Our Advantage Referral program allows members to access most specialist physicians within WHA's network, not just within their medical group.
---
we're always here for you
We support medical innovation and promote whole-person health to suit the various needs of the communities we serve. We provide our members with access to a wealth of preventive health information and resources from 24/7 nurse advice to travel assistance services.
---