Are YOU on your to-do list?
Asking yourself if your preventive screenings are up-to-date is the first step in living a healthy lifestyle. Talking to your doctor about how often you need preventive screenings, such as mammograms and PAP tests, is the next step. As a member of Western Health Advantage, you will not pay a copayment or deductible* to receive these preventive services:
Annual well-woman visits
Immunizations
Screening for sexually transmitted diseases (STDs)
Cancer screenings
Depression screenings
High blood pressure screenings
*Coverage may vary depending on your plan.
Refer to your EOC/DF for determining the preventive services without cost-sharing for your plan. These benefits are subject to limitations, including WHA's right to coordinate care in the most cost effective and efficient manner. WHA may also use reasonable medical management practices when providing these benefits.
Breast Cancer Screening
A screening mammogram is an X-ray of the breast used to detect breast changes in women who have no signs or symptoms of breast cancer.
Women age 40 or older: Annually or as recommended by your doctor
Women under age 40 who are at higher-than-average risk of breast cancer: Ask your doctor if a mammogram is recommended and how often.
Annual clinical breast exam: Good breast cancer prevention also includes an annual clinical breast exam by your doctor beginning at age 40.
Complete your mammogram. Win a $100 Gift Card.
To show our appreciation for completing your mammogram, your name will be entered for a drawing to win a $100 gift card when proof of your exam is provided.* Simply complete the online form.
*To qualify, the exam must have been completed within the past year. Limited to one submission per year.
Cervical Cancer Screening
The good news: This slow-growing cancer is highly curable when detected and treated early.
What causes cervical cancer?
Cervical cancer, which forms in the tissues of the cervix (the organ connecting the uterus and vagina), is almost always caused by human papillomavirus (HPV) infection, which is spread through sexual contact.
Who is at risk for cervical cancer?
All women are at risk for cervical cancer, but it occurs most often in women over age 30. Your risk for HPV infection increases if you began having sex at an early age or if you or your partner has had several partners. The following are additional risk factors for cervical cancer:
Smoking
Having HIV or another condition that weakens the immune system
Taking birth control pills for five or more years
Giving birth to three or more children
What can I do to prevent cervical cancer?
To lower your risk:
Get the HPV vaccine, which protects against the two types of HPV that cause 70 percent of cervical cancer cases.
Get a regular Pap test—which screens for precancerous or cancerous changes on the cervix— even if you have been vaccinated against HPV.
Use condoms and limit the number of sexual partners.
Don't smoke.
Who should get a Pap test?
The U.S. Preventive Services Task Force (USPSTF) recently updated its guidelines for average-risk women, recommending that most women ages 21 to 65 get a Pap test once every three years. Women ages 30 to 65 may wait five years between Pap tests if they test for HPV at the same time.
The USPSTF recommends against Pap tests for women:
under age 21.
over age 65 who have had adequate prior screening and are not otherwise at high risk for cervical cancer.
who have had a hysterectomy, including removal of the cervix, and who do not have a history of cervical cancer or high-grade precancerous lesions. Women with certain risk factors may need more frequent screenings.
How should I prepare for my Pap test?
Schedule it at a time when you are not menstruating. For two days before your Pap test, you should not have sex, douche, use a tampon or use birth-control foam.


What's the bottom line? Protect Yourself.
Get regular screenings and always discuss symptoms with your doctor. It's important to know that Pap tests also screen for precancerous changes on the cervix, so abnormal results do not necessarily mean you have cervical cancer. If you have abnormal Pap test results, your doctor will work out a treatment plan with you to determine next steps.
Did You Know? According to the American Cancer Society, the death rate for cervical cancer declined nearly 70 percent between 1955 and 1992, mainly because of early detection.
---
Member Resources
Click on the covers below to review the most current health resources on women's health.
| | | |
| --- | --- | --- |
| Women's Wellness | STDs: Know the Risks | Cervical Health |
| | | |
Last review date: March 30, 2017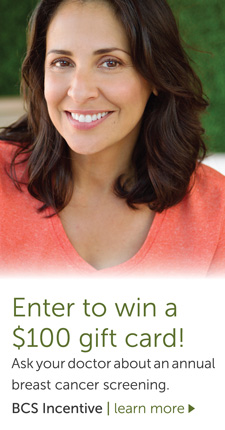 See Additional Resources for Women's Wellness:
11 Harmful Effects of Smoking on Women's Health