PARTNERS IN HEALTH
Western Health Advantage is the regional health plan that doctors and members trust. Our strong and long-standing relationships with our clinical providers and medical group partners give members vital resources for improved health care to help make informed decisions in ensuring quality care.
Finding the right doctor is the best way to ensure your family gets the care they need when they need it. That's why Hill Physicians Medical Group, the largest independent physician group in Northern California, offers plenty of choices to keep you healthy.
WHA partners with Hill Physicians Medical Group, to offer comprehensive and compassionate care for our members. At every stage of life, our partnership provides convenient, high-quality health care with choice and ease.
When you choose Hill Physicians, you have access to more than 200 primary care doctors and 450 specialists; five hospitals, and 22 urgent care centers throughout the Greater Sacramento area. So, it's easy to find a doctor near your home or work.
The dedicated teams at Western Health Advantage in partnership with Hill Physicians have been caring for generations of families across Northern California with the goal to improve the health and wellbeing of the communities we serve.
Take a look at the brochure to the right, highlighting Hill Physicians and their partner organization, Dignity Health.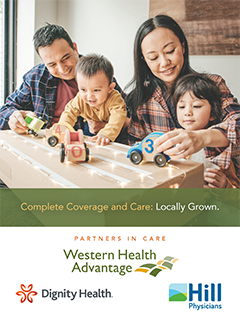 ---
About Hill Physicians
Learn more about Hill Physicians by downloading their open enrollment brochure here.
Please note: WHA is not available in every county Hill Physicians currently has doctors and hospitals.
---
---