WHA welcomes newborns!
After the arrival of your baby, we send out a Welcome Baby Gift Packet that includes a growth chart, a baby's bib and more! As your child continues to grow, his or her health care needs will change. With this in mind, we've included helpful links to the current preventive and immunization recommendations including other sites as resources for parents.
FREE Well Baby Care
Preventive care services such as well baby visits and immunizations are part of your medical plan, at no additional cost to you!
Well Baby Visits
Well baby visits give you and your doctor the opportunity to discuss your child's developmental milestones and healthy habits for you and your child. Well baby visits include a thorough physical exam and can identify many health issues before they become serious. Physical exams are completed at birth and are recommended when your baby is between three to five days old. Thereafter, exams are recommended at the one, two four, six, nine, 12, 15, 18 and 24 months.
For more information, view WHA's Preventive Health Guidelines.
Immunizations
Vaccines boost children's immune systems and are one of the best ways you can protect your child from serious infections and diseases. Help protect your child by ensuring they are up-to-date on their immunizations. If you child has received any immunizations from another doctor, remember to bring a copy of the Immunization Record with you to your next visit. Your child's doctor can answer any questions you may have about vaccinations.
The Center for Disease Control and Prevention (CDC) recommends the following immunization for infants to 2 year olds.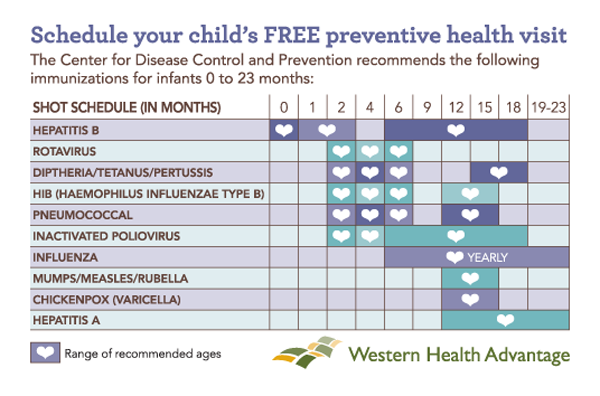 For a complete list of all the recommended immunizations, start here.
Disclaimer: Coverage for WHA services depends on eligibility at the time of the service.
Last review date: February 11, 2019