WHA welcomes newborns!
After the arrival of your baby, we send out a Welcome Baby Gift Packet that includes a growth chart, a baby's bib, and other helpful resources! As your child grows, his or her health care needs will change. With this in mind, we've included links to the current preventive and immunization recommendations and other resources for parents. And, to get helpful resources and information, sign up for our infant e-newsletter.
---
Well Baby Visits
Preventive care services such as well-baby visits and immunizations are part of your medical plan, at no additional cost* to you! Well-baby visits allow you and your doctor to discuss your child's developmental milestones and healthy habits for you and your child. These wellness visits include a thorough physical exam and can often identify health issues before they become serious. Physical exams are completed at birth and are recommended when your baby is between three to five days old. Thereafter, exams are recommended at the one, two four, six, nine, 12, 15, 18, and 24 months. At each well-baby exam, you should expect to get needed vaccines.
For more information, view WHA's Preventive Health Guidelines.
---
Infant Immunizations (Shots)
Vaccines boost children's immune systems and are one of the best ways you can protect your child from serious infections and diseases. Help protect your child by ensuring they are up-to-date on their immunizations. If your child has received any immunizations from another doctor, remember to bring a copy of the Immunization Record with you to your next visit. Your child's doctor can answer any questions you may have about vaccinations.
In 2023, the CDC updated its schedule, which included a recommended annual flu vaccine. Take a moment to review recommended immunizations that should be given at your baby's wellness visits. These vaccines are free* as part of your WHA health plan, and a safe way to protect your child's health.
As you complete immunizations at your baby's wellness visits, complete this form to get a $25 gift card.
*Coverage for WHA services depends on your plan and eligibility at the time of service.
The Centers for Disease Control and Prevention (CDC) recommends the following immunization for infants to 2-year-olds.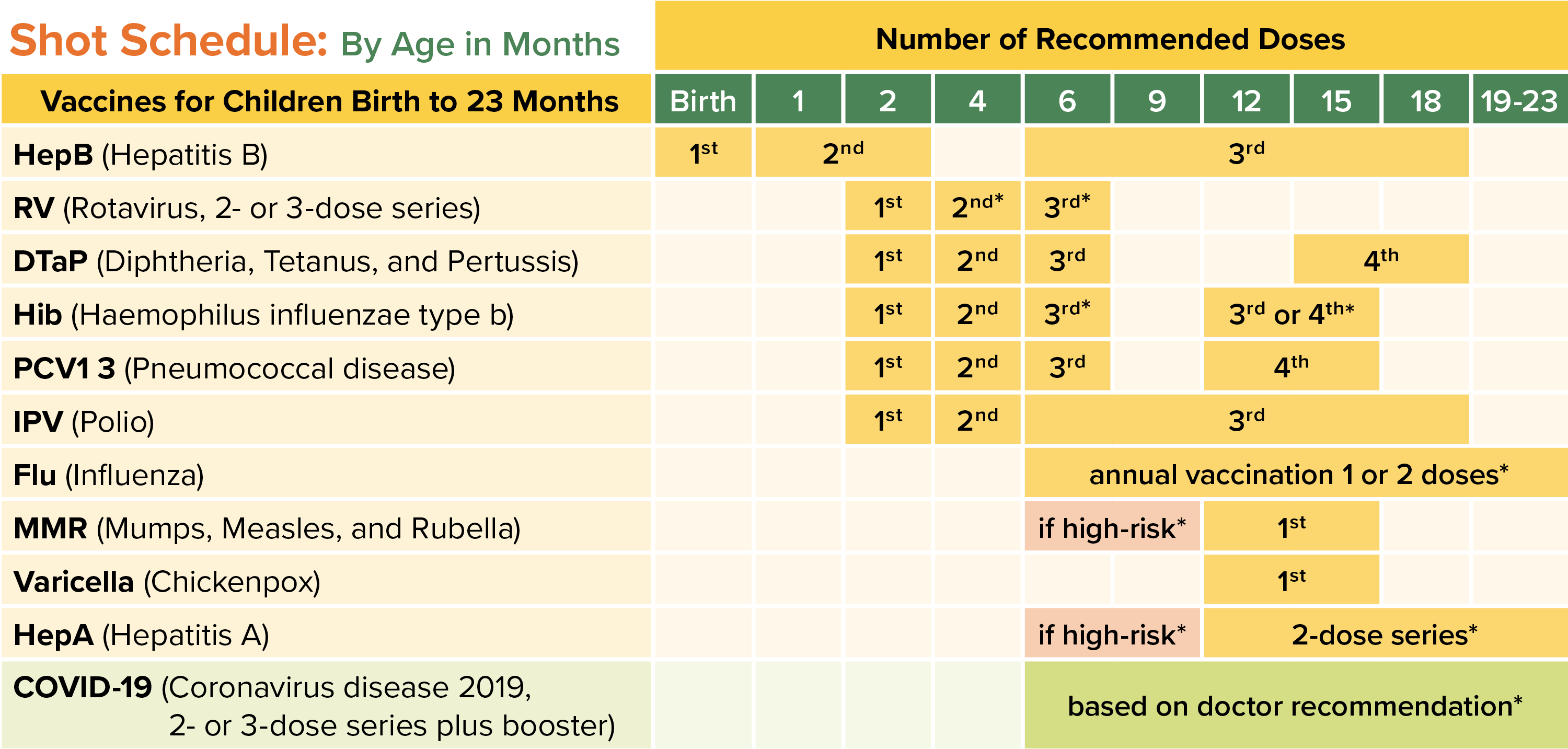 ---
11 Baby Safety Tips
Make sure your baby's crib meets current safety standards.

Keep your child in a rear-facing car seat until they are at least one year old.

Make sure your child's changing table is safe, with a sturdy changing surface and a two-inch guardrail around all sides.

Use baby gates or fences to control your child's access to a staircase.

Never leave children and pets together unattended.

Secure your flat-screen TV or monitor to a wall or cabinet.

Fence off your fireplace entirely when it is in use.

Never leave your child alone in the bathtub, or any water – not even for a second.

Use electrical outlet plugs to make your electric outlets safer.

Identify sharp edges in your living area, such as the corners of tables, and soften them up with padding.

Use pinch guards to protect young children from getting their fingers caught in a door.
Fun Activities for You & Your Baby
There are several activities you can do with your child to help develop their motor skills, muscle strength, social and emotional growth, and much more. The California Children and Families Commission has developed some great activities with a sime some to" instructions and their developmental benefits for your baby. Go to First 5 California and explore their website. You'll find great activities you can do with babies, toddlers, and preschoolers.
Last review date: August 21, 2022