Choose the affordable, flexible HMO
Western Health Advantage is a leading nonprofit health plan with over 100,000 members serving Northern California. Our plans deliver the health benefits and coverage you need, with the care and attention you deserve. Consider the health plan that helps you stay healthy, with doctors within reach—and that's Western Health Advantage.
WHA's CalPERS Member Services Team is here to help you: 888.WHA.PERS; TTY 711
---
Our network is in your neighborhood
You have choice and flexibility to find the right medical team for you.
We offer multiple medical groups to choose from, wherever you live, work and play. Together, these leading health systems offer over 3,200 primary care providers and specialists for your medical needs. Simply, use our Find a Doctor tool on our website to see if your doctor is in our network or search for doctors accepting new patients. For help finding providers that are right for you and your family, call our Member Services team.
WHA's Medicare Advantage plan is available to CalPERS members in Humboldt for 2024.
---
Watch our new open enrollment video
Join us as we showcase the 2024 benefit year plan highlights specific to CalPERS employees and their families.
Active CalPERS Members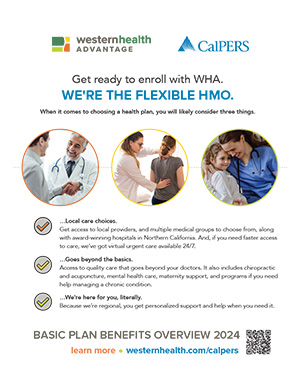 Medicare-eligible CalPERS Members