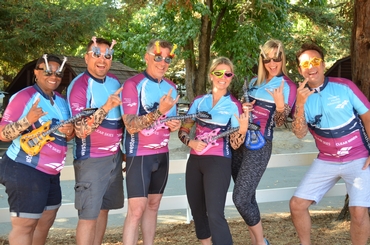 Western Health Advantage supports Breathe California because we believe in their mission to provide outreach and education efforts to ensure that California maintains a level of air quality that allows our region to reach its full potential.
Want to support the WHA Team?
100% of your donation is used locally in our communities to improve the health of us all and 91 cents of every dollar we raise is used directly for local programs.
About the Breathe Bike Trek
The Breathe Bike Trek (formerly the Emigrant Trails Bike Trek) is a three day cycling event that raises funds to support clean air, healthy lungs and a tobacco-free tomorrow.
The 2019 Breathe Bike Trek will stage out of the Petaluma KOA in beautiful Petaluma, California. Participants will enjoy three days of cycling, two nights camping, catered meals, entertainment and more! The Trek is not a race and accommodates cyclists of various experience levels.
Enjoy a 20-mile or less option through the stunning Sonoma County scenery or challenge yourself with a metric century. All routes are fully supported with stocked rest stops approximately every 15 miles.
Mark your calendars for September 6-8, 2019! Don't miss your chance to join us for three days of cycling, camping and FUN.
Questions on how to be part of WHA's team? Email us at community@westernhealth.com
2018 Breathe Bike Trek
When: September 6-8, 2019
Where: Petaluma KOA, Petaluma, CA