Broker Information 2021-2022
AEP Informational Webinars - Now Underway!
Join our Medicare sales team at one of our upcoming informational seminars to learn about our 2022 Medicare Advantage Plans and benefit details. We're excited to share our enhanced benefits for 2022 with your clients!
We're offering online webinars and invite agents and beneficiaries to learn about what WHA has to offer. You'll get an overview of Medicare, the enhanced benefits in our 2022 plans, and steps on how to choose the right plan for you and enroll.
We have several morning and afternoon sessions over the next few weeks and hope you'll join us. It's easy: simply check the schedule and click to register to attend our educational webinar:
2022 AHIP Certification
2022 AHIP Certification is Live! Once again WHA is offering appointed agents a $50 discount on AHIP certification training. Click below to receive your discount. Visit this page for updates regarding DocuSign, contracting, and upcoming online seminars. Looking forward to a successful AEP.
WHA's 2022 product certification link will be emailed to agents once we receive their AHIP certificate.
Getting Started with WHA
You must be contracted and certified to sell WHA. Start by reviewing our new Opportunity Brochure to learn about WHA and the lines of business we support. Then take a look at the Broker Kit for 2022 business, which includes necessary forms like our Agent Agreement, Business Associate Amendment, and Direct Deposit Form.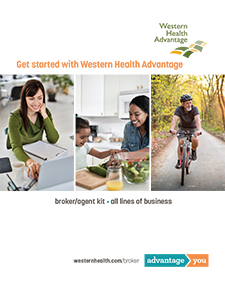 ---
Our Medicare Sales team is here to help you
Have a question about WHA's Medicare Advantage product line? Need to ask about the steps to sell WHA for 2021? Complete the form at right and someone on the WHA Sales team will respond. We can also be reached at 916.246.7494 or 888.992.7494 toll-free or by email medicaresales@westernhealth.com.
Key Resources and Tools:
Additional Resources:
Learn more with free informational sessions online
Encourage your clients to visit WHA's Medicare Advantage Attend a Webinar page regularly to check out our online seminar opportunities and register.
"Get to Know Medicare" for those turning age 65:
Invite your clients who are aging into Medicare to attend an informational session that will educate individuals on the Medicare ABCs, enrollment dates, requirements, and more.

"Let's Talk Benefits" for WHA MyCare members:
Your clients can learn how to take full advantage of their WHA MyCare plan with these online seminars. During each session, experts highlight one valued plan benefit and provide information on how to access the benefit. Our recent webinars were recorded for your convenience: