Looking to compare Small Group (1 to 100 employees) plan options?
Click on the image below for a closer look.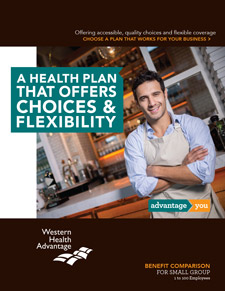 You may also download a complete Benefit Comparison for Small Groups. For more information on finding the right benefit package for your business contact your broker or call WHA directly at 888.499.3198.
Western Health Advantage plans are also available through Covered California for Small Business, the state based exchange for employers with 1-100 employees. Learn more of the WHA plans offered in Covered CA.
Most small group WHA Plans offer prescription drug coverage that is Creditable Coverage under the Medicare definitions. View the list of plans and their Creditable Coverage status.
---
Looking for a certified insurance agent or broker?
Western Health Advantage can help you find the broker who is right for your business.
The site you are transferring to is not hosted by WHA. WHA's Terms of Use and internet Privacy Practices do not apply to your use of this linked site. Please review the policies on privacy and terms of use for the linked site. WHA does not control the accuracy, completeness, or timeliness of the content on the linked site.
Press Esc to cancel
El sitio Web al que está siendo transferido no es provisto por WHA. Las Condiciones de Uso y las Prácticas de Privacidad en Internet de WHA no se aplican a este sitio Web asociado que usted está usando. Revise las políticas sobre la privacidad y condiciones de uso de este sitio Web asociado. WHA no tiene control sobre la exactitud, la totalidad o la actualidad del contenido del sitio Web asociado. WHA no puede garantizar que los servicios de traducción de idiomas estarán disponibles en el sitio vinculado.
Presione «Esc» para cancelar