Health & Wellness Resources
We believe that your employees and their families deserve every opportunity possible to reach their health goals. When your employees choose Western Health Advantage, they'll have access to a suite of health and wellness programs and tools.
MyWHA Wellness
Learning your health status and risks allows you to take control of your health so you can live a longer, healthier life.
Learn more about MyWHA Wellness.
---
Healthy Living
Your well-being begins with a healthy lifestyle and proper nutrition. Enrollees have access to a wealth of preventive health information.
Learn more about online health resources.
---
American Heart Association
Through our partnership with the American Heart Association we have numerous workplace health solutions.
---
Wellness Seminars
Real Solutions, Real Results presentations promote optimum health and well-being from a holistic mind-body approach. Each presentation comes complete with strategies and tools that will guide your employees to find success in the areas of wellness they would like to improve.
Health Enhancement Systems
Our partnership with Health Enhancement Systems allows us to extend great discounts on wellness challenges for your workplace. Popular challenges include Colorful Choices and Health Trails. All HES programs promote positive health behavior change using a fun and engaging digital platform.
Active&FitTM Direct
Western Health Advantage members can participate in the Active &Fit DirectTM. This program allows WHA members to choose from 10,000+ participating fitness centers nationwide for $25 a month (plus a $25 enrollment fee and applicable taxes).
---
WHA's Health & Wellness Manager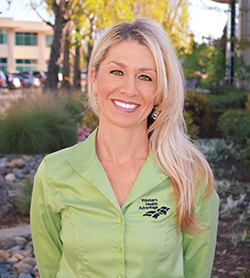 As the Health & Wellness Manager at Western Health Advantage, it is my mission to empower your employees to lead a healthier lifestyle, both in the workplace and at home. My experience and education has taught me that each individual is unique in their wellness needs, and worksite wellness plays a large role, not only in the overall health of employees, but also in the health of the companies they serve. First, healthy employees help keep rising health care costs in check. But even more important, healthy employees are happier, more engaged, and more productive. Healthy employees take less sick days and are more present at work, often contributing to innovations and ideas to further their companies mission and values.
To find out how Western Health Advantage can support your wellness initiatives, please feel free to contact me at a.lowe@westernhealth.com or 916.563.2213.
---